I was born into a poor Christian family on 18th of May 1986 at Sirti Guda village in Kandhamal District, Odisha. My father was a landless farmer. I have one brother and one sister. I studied up to Class 10 and passed the exams and got enrolled for Class 11 but due to poverty could not study further. I had the pressure to find some work and to earn some income to meet the daily basic needs of the family. As common in the village setting, I had got married to Ginu at a very young age of 19. I was serving as a Sunday school teacher in our church. In the year 2008 on 23rd of August, communal riots broke out against Christians in Kandhamal on account of the killing of Swami Saraswati. Many people were killed in the ensuing violence, houses were burnt and plundered, and some women were raped and brutally killed. As a Sunday school teacher my life was also under threat and along with other villagers, we fled to the forest to save our lives. It was by God's grace that we could somehow survive living in the forest for many days facing extreme difficulties and danger.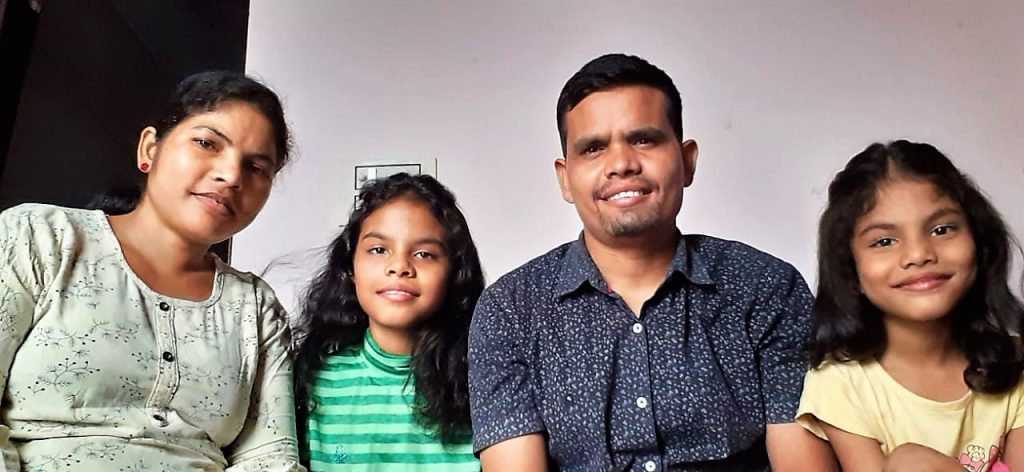 After experiencing the trauma and agony of the communal violence, I decided to move to the capital city Bhubaneswar along with my wife, and started working at Bhubaneswar Municipality Corporation (BMC) as a sweeper cum garbage collector. This experience made be aware of the harsh realities of the city life and the indignities and discrimination faced by such workers. During this time, I met a Pastor, who shared about an opportunity to attend a three months Bible Discipleship course by AG Church in Delhi. The Pastor also offered to arrange for the cost of the trip to New Delhi. After discussing it with my wife we decided to attend this course and left for Delhi in 2009. It was a totally new experience for us to come to the national capital where the language, culture, food habits and life style was totally different from what we were familiar with. By God's grace we were doing our best to learn and adjust ourselves to this new situation.
After completing the course, I joined a senior Pastor to serve in a church ministry at Arjun Park, New Delhi. I served in that ministry from the year 2010 to 2013 with lots of struggles due to lack of transparency by the leader. When the situation became unbearable then I submitted my resignation letter.To support my family,I started working as a daily wage worker, doing white washing work for houses. I also tried my hand in working in a courier serviceas a delivery person, in the Airtel Company as a field worker. The struggle to earn an income to support the family which had by this time grown with the birth of two daughters was not an easy one. As a father and a husband, I was trying my best to meet the needs of the family. For three years I worked in the home of an elderly couple as a care taker for them. My work required me to stay in the house during the night which meant that I had to leave my wife and two young daughters alone at home committing them to Lord's care for 3 years. Though there were lot of struggles but I had the joy of having a loving wife who was very supportive and understanding. The Lord's precious gift of two beautiful and lovely daughters brought us delight despite our hardships. The Lord had enabled me to start a small church consisting of people from other faith backgrounds. They were also migrants like us to city who had come to earn a livelihood or were forced by circumstances to leave their villages and move to a bigger city. I was encouraged by the simple faith of those believers who were also struggling like me to earn a livelihood but were encouraged by their new found faith in the Lord Jesus in whom they had found acceptance, dignity, love and a new family of God.
A big change occurred in my life on 22nd June 2015. Someone introduced me to an organization named Salt Initiatives which I was told worked with churches in doing training for them. I went to their office and met the team leader of the organization. They had a passion for God's Kingdom and I learnt that they worked for the betterment of the society in a holistic way. I was looking for opening and was much delighted to get an offer to join the team as an office assistant. I learnt that the organization emphasized on wholistic growth of every person as Jesus grew in all areas- Wisdom, Spiritual, Social and Physical. It ignited in me the dormant desire for continuing my studies which I had to discontinue earlier. One day I dared to share this desire of mine with the team leader Mr. Raaj Mondol. His response was highly appreciative and encouraging. With his encouragement I enrolled at National Institute of Open Schooling for Class XII in the same year. By God's grace I was able to pass the exams with a 1st division. Through the encouragement and support of the team I enrolled myself at the Delhi University School of Open Learning (DUSOL) for pursuing my Under Graduate program. The opportunity to study filled me with a joy that is hard to describe. It was like that of a dry, parched land experiencing thunderous showers. The working environment there was very affirming for learning and growth. With God's help I was able to complete my BA program securing more than 52% marks. During this period, I was exposed to the writings of various authors in the field of literature. The elderly couple where I had served as a caretaker had lots of books on literature as their daughter is a Professor of Literature in UK. They were quite supportive of my interest in literature and allowed me to read books kept in her home. As Mr. Raaj Mondol also was a student of literature so my interest in the world of literature and language was further sharpened by his mentoring.
In the year 2021 I appeared for the PG entrance exams in DU, JNU and Dr. Ambedkar University. I did not clear those entrance tests but it provided me an awareness of the nature of such tests. My failure did not dampen my spirit but I continued to learn more on the subject. Later the same year, I got an opening to serve through the ministry of TRACI as a Field Associate for the Church Engagement cell. With the help of Bro. Mathew Varghese, Director, TRACI and Bro. Sathish Simon, Director Program, I was able to facilitate a baseline survey for two churches to begin a program of integral development in and through the church. I was also able to assist in a field research of Delhi churches under the leadership of Dr. Bonnie Miriam Jacob the Research Director of TRACI. I continue to serve in the church engagement cell in helping pastors of small churches like mine to get a vision of the Kingdom of God and serve the community in a wholistic way.
This year I had applied again for the PG entrance exam for the regular course of MA English literature language and communication at Netaji Subhash University of Technology (NSUT) Dwarka, Delhi and by the grace of our Lord Jesus Christ my name appeared in the list of 30 selected candidates. It is indeed God's favor that he has granted me success and given this opportunity to study in a prestigious university of Delhi which is also close to where I live.
I am much indebted to the leadership of our present Director Mr. Sathish Simon and Research Director Mrs. Bonnie Miriam Jacob and Mr. Raaj Mondol who not only encouraged me to pursue this study program along with my current service with the Church Engagement Cell but they have graciously supported me through financial support to pay my admission fees. My story is a story of God's continued grace and mercy as you have read thus far. Coming from a poor family, living in the remote district of Kandhamal, who had to flee along with his family to the forest to save their lives during the communal riots, he has brought me to a place where I am now serving a small church as a Pastor in Delhi, and serving in TRACI to spread the vision of integral mission among the churches.
I am much excited with this God given opportunity for me to pursue a MA program in Literature, Language and Communication. As a Pastor and a minister of the gospel of Lord Jesus Christ I see this as an opportunity to grow fully into God given potential and to equip myself to become an effective minister of the gospel of the Kingdom. With TRACI's emphasis on research, writing and cultivating a biblically sound perspective on issues of contemporary concern I hope to contribute meaningfully in TRACI's mission in serving the church and church leaders towards a Kingdom vision. My life story is basically a testimony of God's grace and the love and support that I have received from his people. I would invite you to journey with me in this adventure of learning, trusting and marveling at what God can do with the weak, foolish and lowly things of the world for his glory. (1 Corinthians 1:26-30)
Kishore Chandra Digal
TRACI, New Delhi, September, 2022
Ps. As TRACI, we would invite you to financially support Kishore Chandra Digal in his studies. In case you are led to support, do mention the contribution as 'Scholarship.' Thank you.
Link for TRACI account details for contribution: https://traci.in/finance/