The Covid-19 crisis has been unprecedented in the way it has completely disrupted countries, economies, companies and every person's life on this planet. The scale of disruption has varied, but undoubtedly this is an undeniable marker in modern history and has irrevocably changed the way in which we look at life and how we operate.
One of the big impact areas has been the colossal loss of employment. When the pandemic hit, the Indian economy was already in the most prolonged slowdown in recent decades. You would recall the uproar when the unemployment numbers from Centre for Monitoring the Indian Economy (CMIE) revealed that the unemployment rate in 2019 had gone up to 6.1% from a 2.2% in 2011-12. India has been grappling with legacy issues such as a poor rate of creating employment opportunities and a lack of employment security or social protections for most of the country's population.
The Covid-19 pandemic exposed these lacunae further and exposed the fundamental issues in our economy. With the hastily imposed lock-downs and movement restrictions, factories, workplaces and houses closed their doors to workers. Daily wage labourers were the first to be affected and their households were reduced to penury and starvation. The migrant crisis soon followed, as desperate workers scrambled to get back to their native places, since the hostile urban centres had nothing to offer them. There is no clear record of the number of migrants who were forced to move and the fatalities incurred during the mayhem following the first lockdown. It is estimated that more than 100 million internal migrant workers in India suffered hardship after COVID-19 measures forced them to travel long distances home, many on foot.
Job loss during the pandemic was of 2 different kinds:
1. Temporary job loss due to lockdowns and movement restrictions
2. Permanent job loss due to business closures/ downsizing/ automation
Temporary Job Loss
After the sudden announcement on 24 March 2020 about a 21-day complete lockdown, the country spiralled into chaos, as people scrambled around, trying to grab essentials, cash and food. The first lockdown and the stringent containment measures, caused large-scale job losses and also showed a sharp rise in inequality and poverty, and an increase in indebtedness and hunger. For particularly vulnerable groups such as migrant workers and the homeless, it was nothing short of a humanitarian disaster.
As per the Government of India National Statistical Office, the urban unemployment rate increased from 8.8 percent in April-June 2019 to 20.8 percent in April-June 2020 (for those aged 15 years or above). For young individuals, in the age group of 15 to 29 years, the unemployment rate increased from an already high 21.6 percent in April-June 2019 to 34.7 percent in April-June 2020.
As per data from CMIE, an average four-member household at the bottom of the income distribution lost Rs 15,700 (just over two months of income). Households coped by selling assets or borrowing with debts incurred ranging from two to six times households' earnings. For instance, the Covid-19 Livelihoods Survey of vulnerable households, conducted by Azim Premji University, found that the poorest households (bottom 25%) had debt burdens nearly four times their monthly household income.
However, there was a rapid bounce back in June and July 2020 in employment rates, as the temporary job loss situations were corrected. But thereafter, both the Workforce Participation Rate and household incomes stagnated.
Though no national level statistics are available, there have been reported instances of an intensification of work and an increase in the numbers of hours worked without a concomitant increase in wages after workers returned to work.
Permanent Job Loss
As per CMIE data, by the end of 2020, employment had returned almost to pre-pandemic levels, but incomes remained significantly depressed and around 15 million workers still remained out of work in December 2020.
By September 2021, CMIE data seems to suggest that job numbers are only lagging 2019 figures by about 3 million. However, the composition of the jobs has completely changed.
Many permanent salaried jobs have been replaced by temporary salaried jobs or even by gig jobs. A gig is a one-off task, performed on demand without a (long-term) contract. Segments of India's economy have been operating like this for centuries, albeit with an informal structure. Technology was already formalising the segment before the pandemic, which could accelerate the rate of change.
A proportion of daily wage earners in cities have moved back to the villages to agricultural jobs with low or no income. Self-employment has increased, as formal jobs have reduced in number due to closure of workplaces or serious declines in industries such as travel, hospitality, real estate, etc.
So when we talk of joblessness, who has been the most impacted?
IMPACT OF COVID-19 ON JOBS BY AGE
Young workers (15-24 yrs) most vulnerable to job loss with no recovery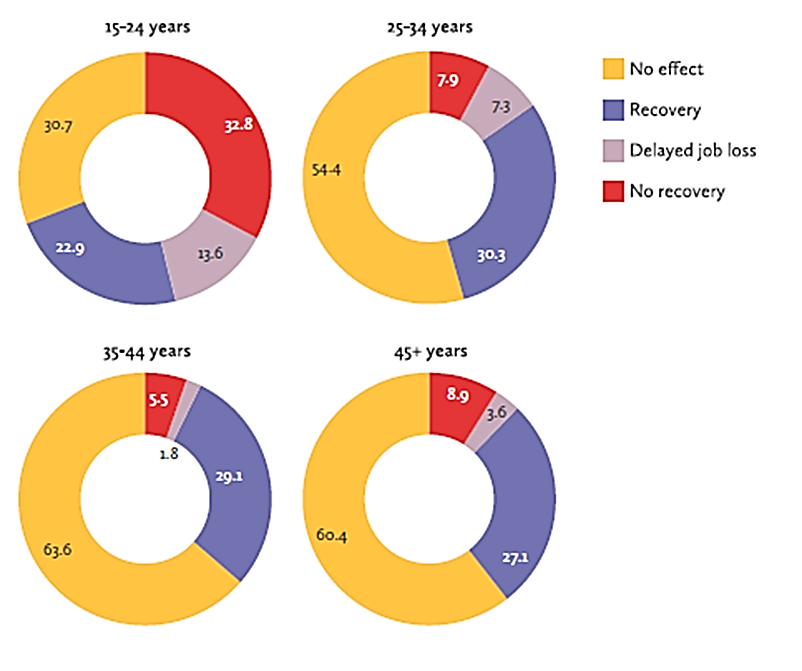 Source: State of Work in India 2021 Report – basis CMIE-CPHS data for Dec 2019 vs Dec 2020
IMPACT OF COVID-19 ON JOBS BY EDUCATION
Less educated workers more likely to lose work as well as return
Source: State of Work in India 2021 Report – basis CMIE-CPHS data for Dec 2019 vs Dec 2020
IMPACT OF COVID-19 ON JOBS BY GENDER
Women more likely to lose employment and not return to work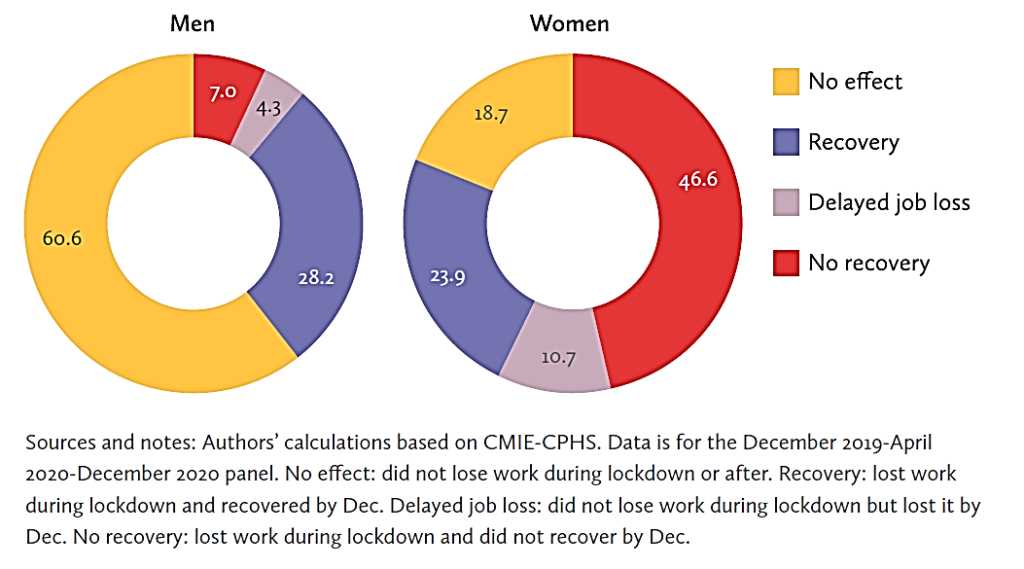 Job loss was most prevalent among the following sections:
Youth (15-24 years). This section was most impacted during the first lockdown in 2021, and a year and a half later, about 20-30% of the lower end of this section, mostly employed in the informal segment, are still jobless.
Less educated workers were more likely to lose jobs and not be able to return
Women – across age groups, the participation of women in the workforce has declined dramatically and over 40% of those who lost their jobs are still out of work
While these segments have been directly impacted most adversely, the pandemic will impact all jobs in different ways in the next few years.
A report by McKinsey Global Institute, estimates that three broad changes in consumer behavior and business models will persist to varying degrees because of the pandemic which include:
the rise of remote work
the increased embrace of e-commerce and virtual interactions, and
the more rapid deployment of automation and AI (artificial intelligence)
This will lead to a reshuffling of jobs in the economy over a decade, and as many 18 million Indian workers will be forced to switch to a newer occupation by 2030. The impact will be "disproportionately" felt on low-wage workers in retail, food services, hospitality, and office administration.
These workers will need to prepare themselves to find work in occupations with higher wages that require more complex skills, such as jobs in health care, technology, teaching and training, social work, and human resources, etc.
So, how does this impact us and how can we as a church respond?
Recognize that job loss is now a reality – it could happen to anyone and the person needs support to deal with it.
Immediate support – Create a kitty for helping those who have lost their jobs with:

Meeting basic needs (paying rent, electricity bill, etc.).

Help with ration and gas (Hunger and malnutrition are real issues).

Educate yourself about the various Government Schemes and social protection programmes and how these can be availed. Help those eligible to enrol for these programmes. Some examples:

Public Distribution System – PDS

Pradhan Mantri Garib Kalyan Yojana

Mahatma Gandhi National Rural Employment Guarantee Act – The Act provides a guarantee of 100 days of employment in a financial year per household to adults willing to do public work-related manual work at a programme wage.

PM-KISAN scheme is a cash-transfer scheme launched in February 2019. It offers an income support of I6,000 per year in three equal installments to farm families.

PM Jan Dhan Yojna, Pradhan Mantri Jeevan Jyoti Bima Yojana (PMJJBY), Pradhan Mantri Suraksha Bima Yojana (PMSBY), Atal Pension Yojana (APY) and Pradhan Mantri Mudra Yojana (PMMY).

Help people to rewrite resumes and create networks for circulating these to people who could help.
Mentally prepare someone who has lost a permanent job, to take up temporary gigs. These, in the days to come, should not be seen as something negative, but as ways to supplement income and also to have flexibility. Big employers in this area:

Delivery jobs (Zomato, Swiggy, Amazon)

Driving (Uber, Ola, Meru, etc.)

Online Tutoring (Byjus, WhiteHatJr., Unacademy, etc.)

Encourage women to apply for back-to-work programs by larger brands like Tata Group, IBM, HCL, etc.
With increased automation and with AI coming in, the days ahead will also see substantial job losses in entry and mid-level jobs in almost every field. Be watchful and prepared to re-skill yourself with the latest skills (while working at current job) and be willing to move out of your comfort zone into new areas or work domains.
Watch out for discouragement, disappointment, stress, depression among your community, specially for those struggling with job loss.
Save. Simplify your lifestyles and save as far as possible, to have about 6 months reserve available. It takes an average of about 6-12 months to get back a job.
If you are in a position of authority, recognize if women are being penalized or are disproportionately being fired. Get out of the mindset that a man has to support a household and a woman can always fall back on her husband's income.
The problem of precarious employment is here to stay. While there will be some sectors and some jobs which may seem secure at the moment, Covid has exposed how false these certainties and securities are.
As a church, we need to start recognizing this changing scenario. For long we have talked about our great jobs and positions as blessings and have looked down on those with temporary jobs, gig workers and those losing their jobs. We have also devalued the work done by women and are guilty of not encouraging our young people to be entrepreneurs and to actually create jobs.
This pandemic has jolted our entire world. It could be the wake-up call we need to really see the issues around us and to build up a more equitable, a more sustainable and a more resilient work force. May God help us rise up to this challenge.
Bibliography
https://cse.azimpremjiuniversity.edu.in/state-of-working-india/
https://unemploymentinindia.cmie.com/
https://www.un.org/en/academic-impact/researching-impact-pandemic-internal-migrant-workers-india
https://www.thehindu.com/news/national/re-employment-still-a-challenge-for-those-who-lost-jobs-in-covid-19-first-wave/article35088460.ece
https://www.livemint.com/news/india/pandemic-will-force-18mn-indians-to-find-new-occupation-by-2030-mckinsey-report-11613729100809.html
https://www.indiatoday.in/business/story/covid-19-poverty-doubled-in-india-in-2020-will-second-wave-make-it-worse-1793826-2021-04-22
https://thewire.in/economy/as-covid-19-second-wave-wreaks-havoc-india-lost-over-7-million-jobs-in-april-cmie
https://www.downtoearth.org.in/blog/economy/covid-19-and-jobs-the-salaried-younger-workers-and-women-suffered-more-79469
https://www.consultancy.in/news/3597/indias-gig-economy-holds-a-potential-of-90-million-jobs-says-bcg
https://www.voanews.com/a/south-central-asia_india-covid-resurgence-deals-second-blow-migrant-workers/6204741.html
https://www.orfonline.org/expert-speak/need-for-a-holistic-perspective-towards-indias-migrant-workers/
Disclaimer: The views of the author are entirely personal and may or may not be representative of any organisation she may be associated with.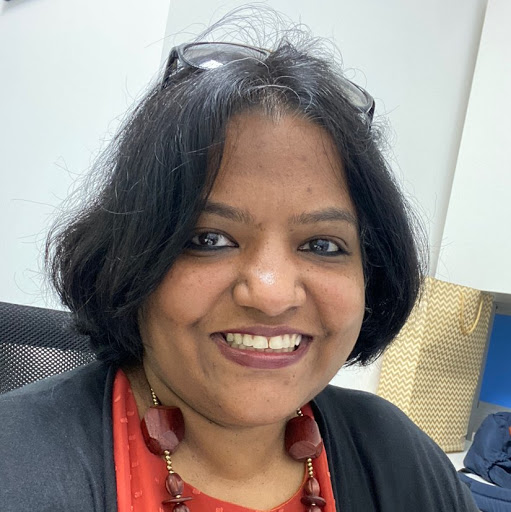 Benita Paul is a marketer by profession with 20 years of experience in various marketing roles with leading brands including Tetra Pak, LYCRA, Johnson and Johnson, Hindustan Times and Airtel. She currently heads Marketing and Business Development for SIG Combibloc, a Swiss packaging company. An IIM Kolkata graduate, she and her daughter live in Gurgaon and are part of The Hub church community. Her interests are working with children and women, specially single mothers. Her purpose in life is to respond to all situations as Jesus would.